Whether you are just starting a business, or you have an established business working by more traditional methods.
Sorry site been dormant since the year 2002
ON -THE -WEB !
Our mission is to help you (the Business Owner) effectively and cost efficiently get on-line. While we keep up with current technology, you can enjoy the freedom to pursue more
... enjoyable things like golf.


If you have done any research, as far as incorporating the latest technologies (Web Sites, Virtual Servers, Virtual Office Technology & Internet Advertising) into your Growing Business, I'm sure you've found that there is quite a variance in pricing and what's included.
With all of these choices, which one is the right one for you? You sure don't want to spend a fortune, but at the same time, you really want to make sure that your Website makes an impression.
"Well that's where DodgersWeb come in. DodgersWeb specializes in helping businesses get started on their journey to becoming ``Netrepreneuers". Please take a moment to look through the information presented within our site. Maybe you can find something that interests you.
Happy Surfing!


Owner:
Roger Stephens
5320 Nyoda Way
Carmichael, CA. 95608
US Phone (916) 871-5412
email: ras@dodgersweb.com

"Hi Minyi"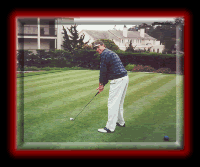 My two passions Golf & Computers what a combo! .........Pebble Beach Golf Links Hole #1, Monteray Ca. Date sometime in 2001 with some fellow pro's. Great round of golf started out Birdie, Eagle, Birdie, Birdie, Birdie, Par, Par, Bogie, Par = "Front 9 holes heavenly round I will never forget"