Imagine a web site that can do anything you want it to while saying who you are with words and graphics that reflect your image. Imagine a web site that is nice to look at, loads quickly, is simple to navigate. Imagine a web site that gives visitors a reason to return, again and again. Can you see it?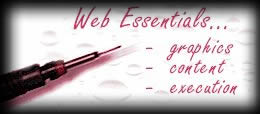 GRAPHIC DESIGN - adapting or creating graphics and laying them out in a visually creative and pleasing manner.
CONTENT - creating and prioritizing the "message" of your site to accomplish your goals and objectives while reaching your targeted audience.
EXECUTION - carrying out all technical functions of your web site to create a seamless integration with the design.

When selecting a company or individual to create your web site design, it's important to remember that effective web site construction consists of the successful merger of the above web essentials.



We have the experience to incorporate these web essentials into a custom designed site that is right for your image while meeting your objectives and budget. Whether you need a simple and cost-effective web site or you require a fully custom-designed site or site make over, we have expertise and willingness to make it happen. Please use our contact form to get in touch with one of our representatives for your free consultation.